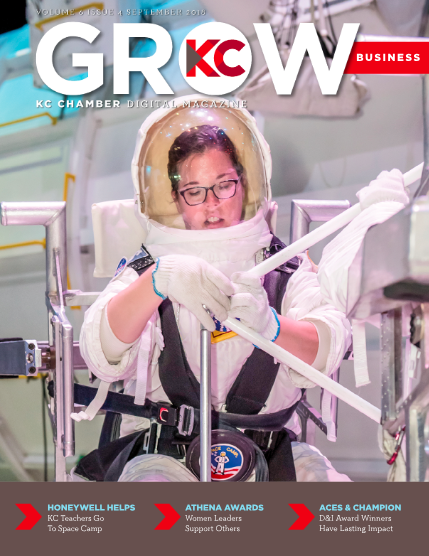 FEATURED BY THE KC CHAMBER
Twenty-four teachers who attended Space Camp in 2018 are now actively engaging more than 1,000 students in the Kansas City region by implementing what they learned to bring science to life in the classroom.
For example, PREP-KC is convening the teachers who attended Space Camp quarterly to allow them to share how they are implementing what they learned at Space Camp in their classroom. These quarterly meetings also give teachers a chance to brainstorm new ideas together and discuss obstacles and support they need in order to bring their ideas to reality.
In addition, teachers' approach in their classroom instruction has shifted from a "lecture and lab style" to a format that is more inquiry-based. This format allows students to pave the way for their own lab work and hands-on learning.
Space Camp teachers are challenging their students in new ways to get them excited about classroom learning. A few examples include:
Students worked in teams on a design challenge to land a satellite on the lunar surface. Through this classroom activity students learned about topics such as Newton's Law, acceleration/gravity, measurement, and trajectory.

Students designed and built rockets, then launched them to practice skills such as collecting and graphing data, and measuring angles and elevation.
Through these projects and lessons, students are working in teams to come up with innovative solutions, are learning how to apply the standards they are learning in the classroom, and taking the time to reflect on what they learned and what they would do differently in the future.
Teachers shared their feedback, reporting that Space Camp was the best professional development opportunity they have ever been given. Here's what they're saying:
"Everything we worked on at Space Camp has given me new ideas and a renewed drive to bring hands-on, problem based learning back into the classroom. It reminded me how engaging learning can and should be." --Samantha Dane, Grandview School District

"The teamwork, problem solving and STEMM activities at Space Camp will highly influence the work with all math and science teachers at Arrowhead Middle School in the coming years, creating an impact that will stretch far beyond just the teachers who attended the camp." -- Cindi Thomas, Kansas City Kansas School District

"With the many new ideas and practices I absorbed, as well as collaborative connections with fellow educators, I am more excited than ever to begin school this August. I am excited to work with my fellow teammates, especially with my math teachers, to show a more exciting way of learning for our kids." -- Molly Backhora, Arrowhead Middle School